Jessica
My Secret To Wedding Planning: Venues
I've been engaged now for about 11 months, which is CRAZY! I figured it was time to share with you all my wedding planning journey and hopefully shed some light to the steps in planning I took.
Keep in mind, I knew NOTHING and I still know nothing. I really am just winging it and I think for a lot of women that is not a bad route to go. It might sound silly, but I never dreamed of my perfect wedding growing up. Unlike other women who have dreamt every detail, I have not and I have been just throwing in all the details I love and that mean the most to me and my fiancé NOW.
When I got engaged in August 2020, my first decision was to just enjoy the next few months. That doesn't mean I didn't think about a wedding at all, because I did and I was so excited dreaming of what that day could look like. However, I didn't start appointments or start looking at vendors- I just enjoyed the time. We had an engagement party a month or so after to celebrate with all of our family and friends.
Once we settled into being engaged for a little, the first thing I did was venue shop! I'm not sure if this is everyone's first step, but it was mine. I wanted to decide on a location before I picked out all the little details. For me all the little details should be chosen around the venue to help accent it or create your vision from the ceremony and reception site.
Step 1: think of location
The first thing you should envision and think about is, what type of location is right for you. Are you a beach person, Do you love castles, Maybe the mountains are a special place for you both. When we first started talking about location, I picked one of each different venue we chatted about. We saw a beach venue, a lake venue, a castle, and an estate/garden. Ironically we went with the venue that I thought would be the last on the list.
You will surprise yourself venue shopping. I would suggest making appointments with a variety of venues. When you step foot in each place and imagine your day on the tour- it will change your mind.
I thought the beach was going to be our place- it was my happy place, a family favorite of ours, and something that seemed right. HOWEVER, touring the venue- I thought of all the reasons I didn't like it and it turned out to be the last on the list.
Step 2: Set a budget
Going into venue shopping, we didn't set a budget immediately. We knew our cut off but wanted to see venues and what they offered first. Through seeing venues, we got a better idea of what our budget was and what we wanted it to include. As I have said- winging it!
Thinking back, I would have loved to sit and figure a budget before we started looking and understanding what we needed included first.
Step 3: DECIDE WHAT YOU WANT INCLUDED
There were things I never realized when I got engaged. For example did we want a venue that provides catering or do we just want a blank slate? Did we want to do ceremony onsite or somewhere else? How much flexibility do you want in a venue or how much do you prefer to have taken care of for you?
There are many different factors to take into consideration when you are choosing a venue. Some people might want a venue where they can customize and create absolutely every single detail- and there are others (hi) that want a venue to provide as much of the process as they can.
Have a conversation with your significant other and see venues that provide both options. Talk with both types of venues. Take the time into consideration that you will have to plan. If you give yourself 6 months, you might want a venue that will do most everything.


Step 4: Bridal Suites!
Something I found out that myth busted venues for me, I thought there was a bridal suite at every venue. I was shocked to find that not as many venues had them. For me that was a must- I wanted a really nice bridal suite on-site that we could all get ready at. Not only did I want a bridal suite, but I LOVED this one venue that had a grooms den filled with games and such for the guys. It is such a cool extra detail that made me love a venue more than others.
When thinking about what you want- figure out if you'd like to get ready onsite or at your hotel.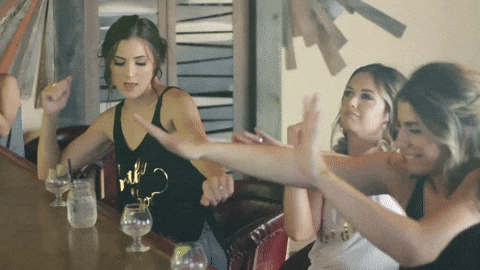 Pros of Onsite Bridal Suite:
Perfect spot for getting ready photos

No need for extra transportation

All day access at the venue

Separate space from the groom and his groomsmen

Most likely a bigger space equipped with everything you will need especially the Champagne!!

No need to make your hotel room a mess- come back to a pristine room with your significant other at the end of the night
Pros of an offsite/hotel Bridal suite:
Opportunity for unique transportation

Be surprised with the venue when it is all ready for your day

Have separation from the venue
Step 5: decorations
Think of all that you may want included! Do you want to make/build pieces to fill a space yourself or do you want as little as possible to have to decorate. This is something to think about as you venue shop because some venues are extravagant enough that you only really want table centerpieces and something at your sweetheart table. Other venues might have a great space but need some charm to make it perfect.
This is a decision to make before picking your venue, it will debate how much extra work and thought you need to put into that aspect of wedding planning and also affects your budget as well.
----------
I hope these few tips are helpful in your process. Selecting a venue is exciting, a big check off list, and also one of the biggest decisions. Think carefully and ENJOY this process. Find the fun in seeing different places and imagine yourself there. Don't get too overwhelmed, set your appointments and fate will do the rest. The perfect venue will somehow be the one to work out in the end.
Until Next Time,
Your Sunflower